Mindset Coaching
You might be wondering what a mindset coach is and what they can do for you. Your mindset drives the way that you view the world and maintaining a healthy mindset about all aspects of life is important. Whether you want to improve the way you view your career, personal relationships, or the world as a whole – personal coaching can get you to where you want to be.
Growth Mindset Coaching
What is Growth Mindset Coaching
Mindset Coaching is about helping you to develop a growth mindset, whereby you see the potential within yourself through Strength Spotting, being open to learning about the world and people, and it helps you to grow through challenges and see the positives through the process.
Meaningful Paths range of App offerings and also the option of a certified life coach online with growth mindset coaching, can help you achieve your goals with further in App community support. The App, courses and online life coaching options can also help you with entrepreneurship and act as a business and mindset coach in your pocket.
Imagine having psychology tool belts, a supportive community, health and wellness articles, webinars and also Masterclass courses from experts around the world in your hand. In addition to this you can access top coaches and practitioners from across the world.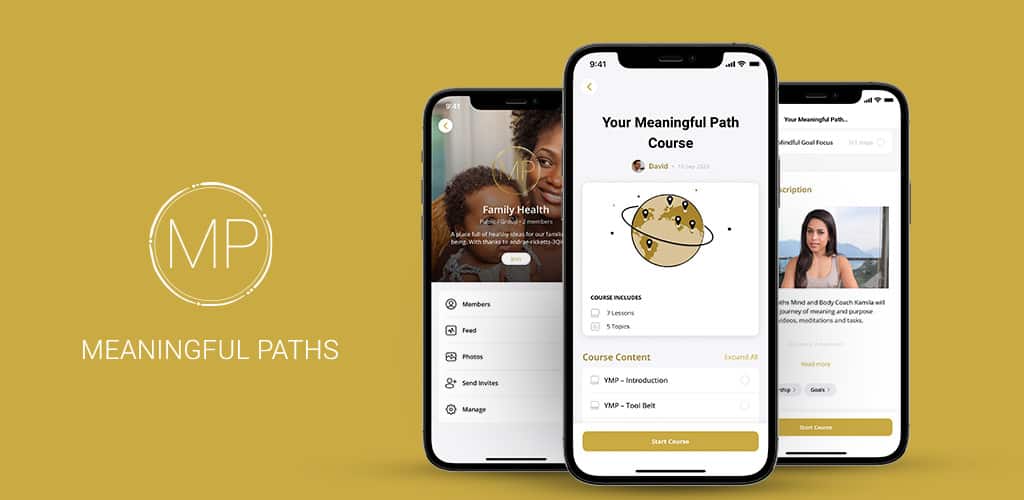 Improvise Adapt Overcome with Meaningful Paths to become your Best Self
Meaningful Paths can help you find purposeful living and teach you how to use your Strengths for your Best Self and how to use such Strengths to help others and worthy causes. Meaningful Paths is far more than teaching you about a happy mind; we teach emotional intelligence, resilience and meaning centered practices. We are supposed to have positive and negative emotions, but we can teach you far more than a happy mind and help you work through negative emotions in a healthy manner and also how to thrive in life.
Mindset Coaching Membership
Start a free one month trial and you can start mindset coaching through the Meaningful Paths App