A Welcome Message
Meet Your Teacher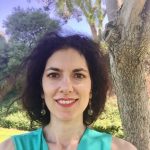 Gayane Kulikyan
http://www.concordinlove.com/
Gayane is a Trauma Sensitive Mindfulness Practitioner, Group Facilitator and a Transformational Coach. 
As a former refugee who escaped from the grip of war when she was a child, she felt lost and disconnected from herself for a couple of decades. After graduating from college with a 3.9 GPA and landing a job in a Fortune 500 Corporation, she realized that she was in the wrong place. 
This painfully disappointing experience supported Gayane in reevaluating her life and pushed her to engage in the process of Soul searching. Gayane embarked on a journey of healing and self-development by diving into psychology books, attending workshops, working with practitioners and pursuing a master's degree in Spiritual Psychology. 
Gayane now enjoys supporting women who feel overwhelmed and lack purpose. She helps them to reconnect with themselves, to experience healing, fulfillment and inner peace.
Course Details
Module 1 – Grief
Gayane will walk you through five stages of grief in detail. Once we begin to understand what is happening to us and where we are at in our journey, we can take actionable steps to help us process what we are experiencing.
Module 2 – Compassion
Gayane will guide you on the concept of self-compassion and also compassion for others. Compassion is a key part of navigating grief in a healthy way.
Module 3 – Embodiment
Gayane will share with you how the mind and body are connected, and how we can understand emotional processes. We often spend much of our time being 'stuck in our head.' In this module you will discover how to understand what your body is telling you and how to process your grief further.
Module 4 – Soul Purpose & Grief
During the process of grief, we can very understandably shut ourselves off from people and life. There will be a time when you feel a greater openness from your heart and also a greater openness to life itself. Gayane will guide you through this process from a concept of 'soul loss, to finding meaning in life again and 'soul purpose,' so that you can start to find happiness again.
Module 5 – Resilience & Strength
Gayane will discuss inner and outer resources that you can work with to help you process your grief. This can range from writing, painting, music and meditation to help us build our resilience and inner resources, or this could be reading certain books and gathering help from a support system for outer resources.
Module 6 – Meditation Practice
In our final module, Gayane will help us bring together learnings from this course through a meditation practice.
For any questions please email us – hello@meaningfulpaths.com