Welcome to a world of possibilities with our Meaningful Paths Membership.
Your Best Friend in Your Pocket.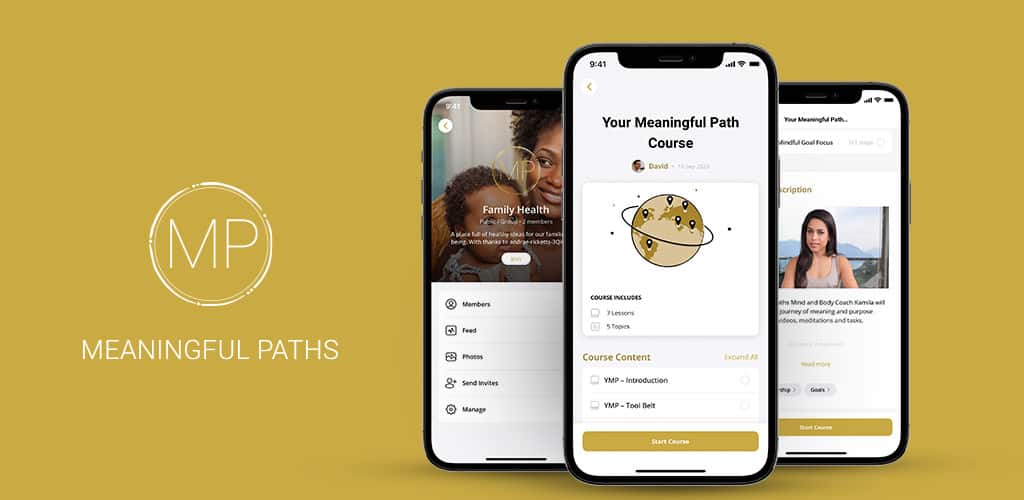 Download our App for free before signing up to our membership
Access to fun psychology, health and well-being resources.
Create your own profile and meet like minded individuals.
Join free groups ranging from family health all the way to brain health and much more.
Join Charity groups and connect to world leading experts in community development and volunteer your time, skills and strengths to help others.
MEMBERSHIP
Access to fun Tool Belts created by expert practitioners
In App Tool Belts:- Lighthouse Emotional Intelligence, Strengths Spotting, Brain & Stress, Understanding Anger and much more.
Access to message Meaningful Paths Founder and Positive Psychology Practitioner David Chorlton one question per week.
Access to live and catch-up recordings of our fireside chats with world leading experts in the field of health & well-being.
Flash Talks by practitioners surmising key knowledge within just a few minutes.
Special discounts for our Meaningful Paths Masterclasses.
Choose your specific membership type

–
Tool Belts created for your lifestyle
For the Individual: All of the above benefits and tailor made Psychology Tool Belts for you.
For the Parent: All of the above benefits and tailor made Psychology Tool Belts for Parenting.
For the Health Care Professional: All of the above and tailor made Psychology Tool Belts(Coming soon).
For the Teacher: All of the above and tailor made Psychology Tool Belts (Coming Soon).
Swap between memberships if your situation changes for example move from an individual to a parent when the happy day arrives.
Cancel anytime.
£7.99 per month
per each specific membership
Cancel Anytime


COMING SOON
FAQs
(Q) Can I cancel anytime? (A) Yes absolutely, you can cancel anytime through your in app purchases on your mobile phone for Apple or Google.
(Q) How can I connect with my designated practitioner? (A) Your designated practitioner will send you a direct message within the app to confirm that you are comfortable with the coaching terms & conditions. From here you may ask your designated practitioner you first question.
(Q) how many questions can I ask my practitioner? (A) You may ask you practitioner one question per week. You may ask your practitioner all four of your questions in one week; however once the calendar month has finished your questions will reset and cannot be carried over to the following month.
(Q) What Tool Belts will I have access to? (A) You will have access to Tool Belts which relate to your particular membership.
(Q) Can I swap my membership type? (A) Yes, you can swap over your membership type within the app without cancelling anytime. For example if you want to move from the Path of an Individual membership you could swap to the Path of a Parent membership.
Reviews