Image Ref: Photo by Google DeepMind on Unsplash
THE CURB YOUR ADDICTION (CY-A) APP
In partnership with the Meaningful Paths app to support will power training.
A brain training App for Smartphones and desktops, designed by neuroscientists to target the front part of the brain that is linked to 'will-power'. Simple and easy to use, with gradually increasing levels of difficulty that you commit to for as little as 15 minutes each day. A bit like lifting weights for the brain, a 'brain gym'!
Why should I use it?
Use simple Curb Your Addiction to exercise the front of your brain and say CYa! to those annoying habits you want to control! Want to strengthen your will-power, to control your appetite and eating, quit smoking, stop taking drugs, give up alcohol, control your aggression, avoid anxiety in social situations and much more? Try Curb Your Addiction! Want to stay focused on your life goals, be more efficient at home and at work and say CYa! to feeling mentally overwhelmed? Try Curb Your Addiction! Are you part of a treatment program, or self-improvement group? Use Curb Your Addiction and it may boost the treatment effects.
Curb Your Addiction, or CYa! for short is based on years of neuroscience research by leading experts in the field of impulse control. Researchers have found that in just 4 weeks, using CYa! for half an hour per day may increase brain volume in a front brain region linked to will-power. Increasing your brain volume may help you to gain better control over those annoying habits that you just want to stop!
So try Curb Your Addiction today, and say CYa! to your bad habits and improve your life!
HOW THE APP WORKS
CY-a is based on a well-known working memory training task known as the 'N-Back'. Various international neuroscience groups have clarified the working memory network in the brain, and that deficits in this network often occur in various impulse control disorders.
CY-a adds novelty to the existing working memory task by including both peripheral distraction and subliminal interference while players complete the 15-minute game. This is to mimic real-life distractions to everyday life attention, and to give a player the opportunity to select subliminal cues that their brain finds the most difficult to resist (e.g. drug-use images).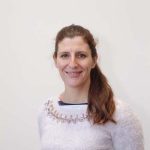 Dr. Samantha Brooks is a Reader of Cognitive Neuroscience in the School of Psychology, Faculty of Health, Liverpool John Moores University, UK, and a Chartered member of the British Psychological Society. Her research specialises in the neural mechanisms of impulse control in various psychiatric conditions (e.g. addiction, eating disorders). Previously, Dr Brooks worked as a lecturer for six years at the University of Cape Town, South Africa and co-led the Psychiatry Neuroimaging Group. Before working in South Africa, she completed her postdoctoral fellowship at Uppsala University, Sweden, where Dr Brooks continues to collaborate on projects examining the brain processes underlying eating disorders and adolescent-onset mental health disorders. She gained her Ph.D. at the Institute of Psychiatry, King's College, London, where she learned clinical neuroimaging techniques, such as structural and functional Magnetic Resonance Imaging. Dr Brooks has published book chapters and over 100 papers to date in high impact journals with a current H Index of 42, continuing to present her work at international conferences. Her research on impulse control in eating disorders and addiction has so far attracted over 1 million Euros in international funding and collaborations with international experts in the field.